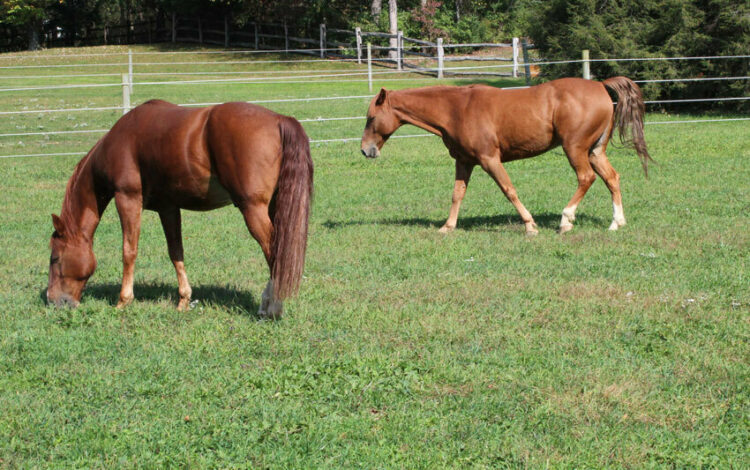 In this world full of choices, sometimes too many options is worse than none at all. Kencove offers a large selection of insulators, which can be overwhelming at times.
In addition to standard tube insulators, Kencove offers claw and pin-lock insulators. We are often tasked with helping customers select the "perfect" insulator, which is easier said than done. Each type of insulator has its pros and cons. When selecting fence supplies, keep these points in mind.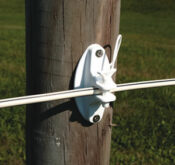 Is this a permanent fence or a temporary set up?
What animals do I plan on having in this fence?
What is my budget?
Do I want something that is easy to change or move?
Am I doing the majority of the work myself?
Depending on your answers to the questions above, you should be able to quickly and easily select the best insulators for your fence.
Claw and pin-irtcw insulators are:
Ideal for coated wire fence systems
Easy to repair and/or change
Easy to install with minimal tools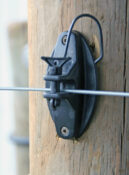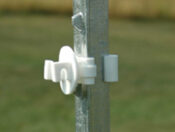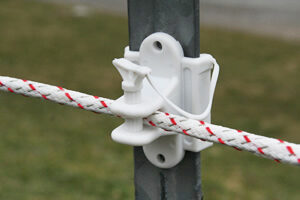 Kencove carries pin-lock and claw insulators for wood posts and t-posts in a variety of styles, brands, and colors.
Kencove pin-lock insulators are great if you are using anything other than smooth wire. They work with smooth wire, but pin-locks can easily accommodate thicker coated wire, which allows for more versatility. They also work well with rope and twine.
Kencove's claw insulators are more rugged and can withstand constant pressure along a fence line. Without a pin to break, claw-style insulators last longer than their pin-lock counterparts. However, they can be cumbersome to install, especially when working with coated wire.
We asked some of our product specialists which insulator they preferred.
Ric, one of our senior product specialists, is a pin-lock guy hands down.
"If there is a problem and something falls along your fence, a claw insulator will bust off, where typically the pin will break and the insulator will remain nailed to the post. This means you either find the pin and stick it back in, or replace it with a similar-sized object. This makes your repair quick and easy, rather than reinstalling broken claw insulators."
Rock, our pasture pig expert, is a claw man without a doubt.
"Pin-locks snap over time. It's not a big deal to replace the pin, but it is a pain if you have to fix a lot of pins. In the long run, claws are harder to install, but they last longer."
John, our customer service representative, is a fan of the claw insulators.
"They are stronger, hold up nicer, and you can install them wearing gloves. It's really hard to work a pin when the pin is cold or your fingers are cold. The claws hold up better over time, especially after impact. A pin will snap off the pin-lock, but a claw won't snap."
Product specialist Kerry is a fan of the claw insulators as well, but she admits that "pin-locks are much easier to install."
Our customers are pretty split on this topic as well.
Pin-lock
"These are the best insulators on the market by far. They are easy to install, and I believe that because of the large mounting base, it provides the stability to withstand the cold Maine winters without breaking as other insulators have in the past."
"I like these insulators because you can take down sections of the fence for repairs if you need to or to get a vehicle in where you don't usually need one."
"Excellent product. Durable, easy to install, and look good!"
Claw
"These insulators are tough, and have lasted me over 10 years. I wouldn't buy any other insulator for Hotcote or any other type of rope or wire. I have never had one break, and I live in a windy area that regularly sees minus 30-degree winters, which is really hard on plastic insulators. Highly recommend these!"
"Nice and easy to use."
"Great product. You will love them."
In the end, there really is no perfect insulator. Each style has its benefits, and selecting the right insulator for your fence can be a challenge. It depends on your personal preferences and what you are installing. Sometimes it's easier to have a quick, trouble-free install with a pin-lock insulator, and other times, you want a one-time install that you won't have to worry about replacing. Ultimately, you really can't go wrong with either style.
A complete list of insulators is available on kencove.com. If you have questions about selecting the proper insulator or any other fence supplies, please give us a call at 1-800-536-2683. Our product specialists are glad to help.