Versatility is a useful quality for any piece of equipment when farming, grazing is no exception. Efficiency is the name of the game. Rotational grazing, holistic planned grazing, high density stock grazing, mob grazing, whatever style or method of grazing you practice is all made possible by the tools and equipment you use and how well you can establish a rhythm to make chores and paddock moves consistent and quicker. There's no shortage of work to do on a farm or ranch, that's why Kiwitech products are a gamechanger.
The Kiwitech grazing system is not a new fad, it has been around for decades. As the name would suggest, Kiwitech was developed in New Zealand and the design features reflect the innovation that has made that part of the world the leader in pasture technology. These products were more widely known in New Zealand and Australia but only made a minor cameo in the US through Kencove back in the day. But now, Kiwitech is a more relevant product line than ever and that's why we're bringing it back!
Covid sent many families back to the land to raise chickens and small grazing animals, rotational grazing and grass-fed systems have gained more traction and marketing on store shelves, climate change and desertification of landscapes has called for more intentional and impactful grazing of herbivores, all setting a global stage for grazing as an essential practice in high demand. This in turn has created a need for quality grazing equipment that can cover a wide range of applications.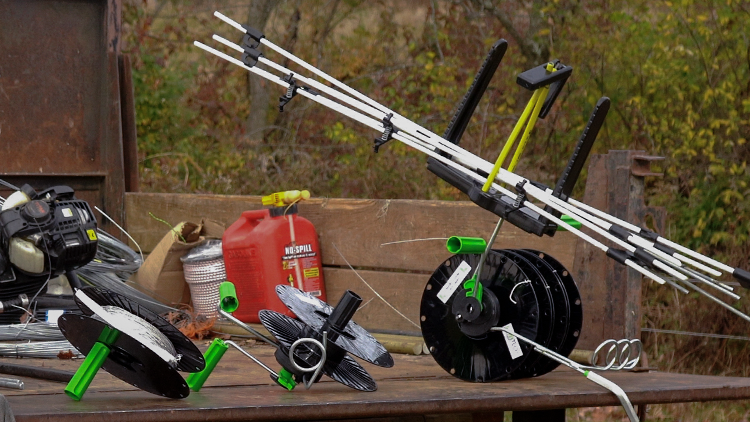 From step-in posts to reels, grazing products all have their special niche features. Some are more useful while others are one trick ponies. But the Kiwitech system takes a modular approach to its products, making it the most customizable and versatile line of grazing products on the market. These products allow graziers to build posts, reels, winders, and carry packs to meet the exact demands of their context. All livestock are different from species to species, all landscapes are different from region to region, and all management is different from operation to operation. Kiwitech offers the freedom to create a unique toolkit worth its weight in gold.

How many times have you been frustrated with step-in posts that don't have clips or insulators at the right height settings? Or how many times have you broken a crucial clip off a step-in post rendering it almost useless? Now, you can assemble posts to meet your exact specifications and if a deer breaks a clip, you can simply replace it! Kiwitech posts use a standard 3/8" fiberglass post (F38-4SG) with a reinforced foot (YXR3) and clips to hold your electric twine. All post accessories are held in place with wedges. These wedges are either single (shaped like a shim) or double (shaped like an hourglass) wedges. Single wedges (XDC3W) are very secure and are driven into place to lock feet in place or on clips that are not likely to need adjustment. Double wedges (XDC3) are extremely convenient for clips on line posts that may need adjusted on the fly because they are easy to slide up or down the post. Kiwitech also makes a foot with a longer pin (YXRL) for assembling brace posts to support end posts as well as release hooks (XRH) that give you the ability to securely terminate and hang spools at the end of a run.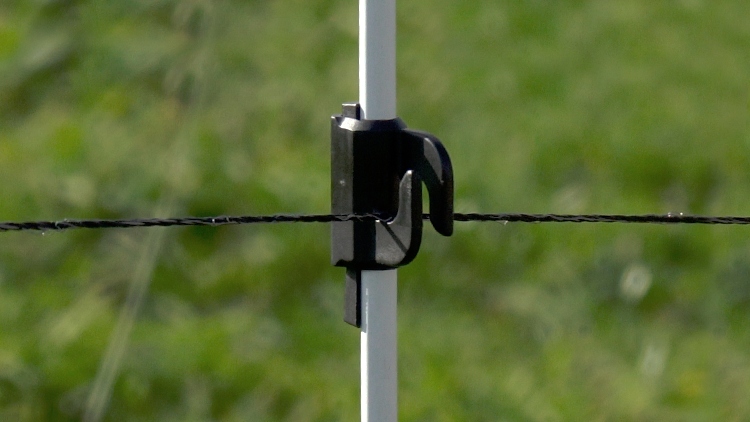 Kiwitech reels bring an all-new level of unparalleled versatility in the grazing world. Spools are the foundation of Kiwitech reels whether for orbital reels, winders, or carry packs. These spools are available loaded with tight twisted Kiwitech twine (656ft XTS26 or 1320ft XTS46) or as bare spools (XPB) to be loaded with your favorite kind of electric twine. Create an orbital reel, easily operated with one hand, by simply adding a snap-in handle (XPSH) to a spool or add a 4:1 geared ratio to make a geared winder or complete carry pack. Winders feature a 4:1 gear box, a carry handle, a crank handle, and a chuck and guide for up to three strands of twine. Carry packs take Kiwitech to a higher standard of capability. They combine all the great features of the 4:1 winder with the time saving rack for storing and carrying posts with you as you set up paddocks and pay out twine. This eliminates all the extra trips back and forth while leaving your hands free to work.

Kiwitech has thought of it all right down to the tools to help you assemble components and specialty gate handles to make tensioning your twine easy (XGHS). Whether you're a minimalist or a gear junkie Kiwitech has customizable products that will complement and improve your management style and maximize your efficiency as a grazier. So, get excited about your chores again because grazing just got easier!