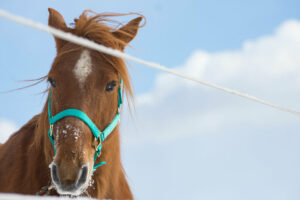 We all know too well that when it comes to horses, everything is more expensive. From feed and hay to equipment and fences, horses require specialized set-ups, and if you take a shortcut you will end up paying in the end. Now, we can't solve all of the problems with horses, however, we can help you fence in your equine friends with safe, secure, low-maintenance, affordable fencing.
Traditional fencing options for horses include high-tensile wire, vinyl boards, wood boards, and woven wire fence, with temporary fencing options of tapes, twines, and rope. Kencove offers a large selection of permanent, semi-permanent, and temporary fencing for horses.
Although Kencove's specialty is high-tensile wire, we also offer a safe alternative to high-tensile wire for horses. Kencote and Hotcote were designed with horses in mind. These coated wires not only provide a physical barrier, but also a psychological barrier. When used together, you can achieve a strong, aesthetically pleasing, safe fence for your animals.
Depending on the personality of your horse(s) and your future plans, 3 to 5 strands of Kencote will provide a physical barrier appropriate for your needs. Kencote is made of 200 KSI, 12 ½ gauge wire coated with high-quality, UV-stabilized plastic that has been molecularly bonded to the wire. Kencote cannot be electrified, and, therefore, only provides a physical barrier. But when used with Hotcote, you can achieve a physical and psychological barrier.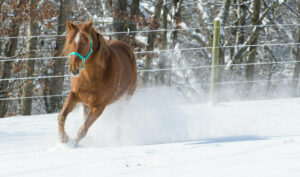 This combination is especially effective when working with horses that are young at heart and require a stronger fence.
Hotcote is very similar to Kencote, however, Hotcote contains 3 strands of black carbon strips extending the surface to carry an electric current. Hotcote is made using the same 200 KSI, 12 ½ gauge wire as its core with the addition of the carbon strips. Both Hotcote and Kencote are proudly manufactured in the USA and are backed by strong manufacturer's warranties. Hotcote offers a 20-year limited warranty, and Kencote offers a 30-year limited warranty.
If you know you will need a psychological barrier and electric fence to contain your equine friend, Hotcote is the best option for permanent fencing. We recommend using 3 to 5 strands of Hotcote. You can add in Kencote as a neutral wire in between, or simply keep 5 strands of Hotcote.
Kencote
Not electrified
-Available in white, brown, or black
-Made using 200 KSI, 12 ½ gauge wire
-UV-stabilized plastic
-Molecularly bonded to plastic
-30-year warranty
-0.30" in diameter
-Made in USA
Hotcote
Not bonded
-Available in white, brown, or black
-Made using 200 KSI, 12 ½ gauge wire
-UV-stabilized plastic
-3 black carbon strips for electrical current
-20-year warranty
-0.375" in diameter
-Made in USA
Other materials you will need include:
| | |
| --- | --- |
| Crimp Sleeves | Stainless-Steel Screws |
| Wire Strainers | Safety-Loop Connectors |
| Staples | Bracing |
| Insulators | Hotcote Tubing |
| Corner Collars | Brace Pins |
| Posts | Gates |
As far as posts go, you can use standard wood posts or PasturePro Posts depending on your budget and equipment capabilities.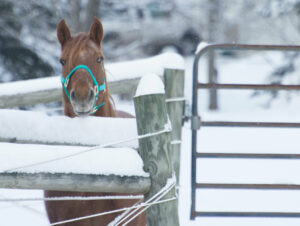 If you are using PasturePro Posts, you will not have to worry about insulating your Hotcote. PasturePro Posts are made from an oriented wood-plastic composite material that is non-conductive and self-insulating. They can be drilled like wood posts, and they are easy to install using a portable gas-powered post driver, like a Titan Post Driver, or a manual spring-loaded post driver. PasturePro Posts are safe for animals and people, and will withstand a beating. With no PVC, fiberglass, or wood treatments, PasturePro Posts can be used in organic operations and are safe for horses.

CCA-treated wood posts will last decades and are a great investment for any farm or ranch. Although they cost more to purchase and equipment is needed to quickly set posts, the initial startup cost will pay for itself in the end. We offer a large selection of heights and diameters here at Kencove. All of our wood posts are harvested at our post mill in Eastman, Georgia, and CCA treated at a local facility in Indiana, Pennsylvania, close to our main warehouse.
For whatever type of post you choose, you will need a good, solid bracing system. You can build your traditional H-brace or try a Dynamic Diagonal floating brace system. The Dynamic Diagonal brace can be used with any size wood post or with PasturePro Line Boss Posts.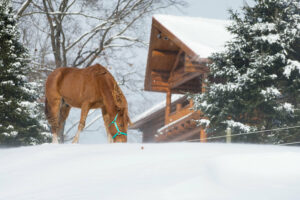 Your exact shopping list of items will depend on your farm, needs, budget, and future plans. Give our sales team a call at 1-800-KENCOVE. They will help you get everything you need for your project.

Here are some things to keep in mind when calling:
What is your terrain like?
How big of an area are you wanting to enclose?
How many gates/corners?
How many lines?
Any hot wires?
What type of wire/twine/tape?
Can you run electric to your fence?
What type of posts do you want?
What type of equipment do you have access to?
What animals are you containing?
What is your budget?
Are you looking for permanent fence? Semi-permanent? Portable?