Hello, my name is Mary Blake, Warehouse Manager at the Kencove warehouse in Earl Park, Indiana. I started working at Kencove in 1999. My husband John and I live on his family farm where we grow hay, corn, and beans, and have 35 head of Limousin cattle. We have two adult boys, Kent and Mark. The boys, following in John's footsteps, showed 4-H calves and have been involved in showing cattle on the National Junior level also. They've shown the Chianina breed, and in 2007, the Limousin breed.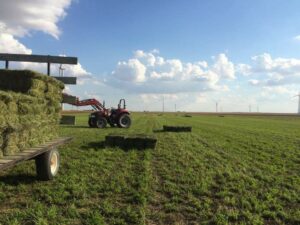 John moved to our farm in 1981 and started repairing and replacing the fence that was built in the early 1900's by his grandfather. Around 1985 he began purchasing material from Ivan Bennett of Advanced Ag Concepts in Earl Park. By 1986 Ivan convinced John he could build fence professionally and J&S Fencing was established. Eventually Ivan sold Advanced Ag Concepts to Charlie Kendall, and the Indiana branch of Kencove Farm Fence began.

In 2016 John became an international fence builder when he was approached by our crop insurance provider, Doug Clark, who has been on a few Mission trips, in particular to the Loving Shephard Ministries (LSM) Ag Park in Les Cayes, Haiti. The mission for 2016 was to build three high-tensile fence pastures with high-tensile and woven wire. After consulting with John about fencing needs and ideas, Doug came to Kencove to purchase a post driver and supplies. I had a feeling where this was going, and I was sending up prayers that John would say yes if asked to join the team and lead the fence building, and he did!


After a wonderful experience last year, this fall when they asked him to return and build more pasture fences, John inquired if I could go, too. See, I've wanted to go on an overseas mission trip for a number of years, but just never had the right connections or timing, so I was quite envious of John going the first time. But I know what God says about envy and also patience! Granted, I don't always listen, but I do try, and I was just glad John was able to experience the Haiti trip.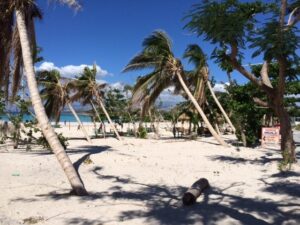 We prepared another supply list for Haiti, and John and Doug delivered it in November to Loving Shepherd Ministries (LSM) in Bluffton, Indiana for the container to ship out to Les Cayes, Haiti. I was asked to join the team of 7 men – John, Doug Clark, Brandon Conrad, Jerry Peterson, Doc Van Hoveln, Jerry Wolf, and Allen Stoller – and I accepted. I was so excited knowing that God allowed me to go with the experience of my work at Kencove, and being the farm wife of a husband who builds fence!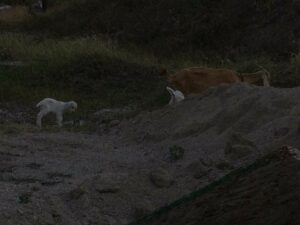 Currently the LSM Haitian Staff and US Work Team are working together on breeding cattle, pigs, goats, and poultry for meat and eggs that will either be sold at the market or will provide food for Home of Hope families. Through these mission trips, close to a mile of fence (creating several pastures), has been built in the last two years. Both woven wire for the goats, and two or three strands high-tensile wire for the cattle, which will allow cattle numbers to increase.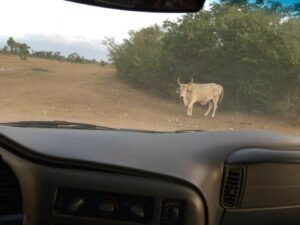 A brooder house was built last year for the laying hens, and currently there are 800 chickens. Two years ago, two broiler houses were built and new chicks will be arriving in the spring.
The Ag Park workers were working on the first of four farrowing houses. Right now they just have 4 hogs with plans of 25 to 30 as soon as the facility is completed.
The goats will be phased out as, like any business, you have to find out what works and what doesn't. Goats are plentiful in Haiti, so the cattle will have another pasture.

The Ag Park sits on approximately 40 acres and includes the future LSM Technical Institute for high school graduates to attain higher education and develop specialized skill sets for many different trades. They will live on the Ag Park Campus learn occupational skills, and receive biblical training, so dorms, bathrooms, a laundry area, a cafeteria, and classrooms are future projects.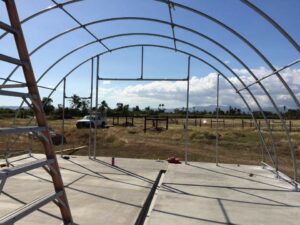 We arrived to our hotel in Les Cayes late Friday evening, January 13th with the plan to work at the Ag Park on Saturday. The Haitians had already put the corner posts in the ground. Unfortunately with the corners, they have to be dug by hand and then concreted, and underneath the soil are layers of rock. It was a very pleasant surprise at the lack of damage that Hurricane Matthew did at the Ag Park. Just one fence gate and a small section of woven wire was in need of repair. The high-tensile fence built last year held strong!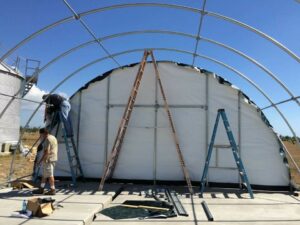 John and Brandon began the day on the fence crew and the rest of us began putting up a hoop building that will house the fodder system being installed in late March. Luckily for us, the concrete was already in place to install the hoop building. It was warm and sunny. Sunscreen and a water bottle were a must, and I was happily soaking in the atmosphere. We worked until 5 PM and headed to the hotel, ready for hot showers, dinner, and rest! Most of us had hot showers, but as we discovered through the week, hot water was not always available. When it happened we felt blessed, and we were thankful that cold showers in Haiti are still warmer than cold showers in Indiana in January!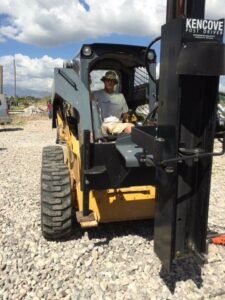 We had a wonderful day of rest on Sunday. We started off the day with breakfast, and the Ag Park provides the eggs served at the hotel. We attended church where we were welcomed with open arms. After service we headed to the beach at Port Salut, and it was beautiful. After lunch on the beach we headed into the salt water!

Monday and Tuesday we continued to work at the Ag Park, with two of the men joining the fence crew and leaving the hoop crew. We enjoyed our morning devotions with the Haitian Ag Park workers, interacting with them, and forgetting that, while we were all on the same page to work, the language wasn't the same. Luckily, a few of the young men knew enough English to accomplish what was needed. The fence crew assembled the rock spike on the post driver, which was very important and greatly needed to get the T-posts in the ground. The ground is rock and T-posts don't go in very well. The rock spike worked well to get a hole in the ground, and one of the guys finished the job with the spring action T-post driver.
On our daily trips from the hotel to the Ag Park, we passed through several communities, and everyone was outside. The majority of the homes are just 4 to 5 rooms, with no windows, all concrete, and just a postage-stamp-size yard. The children play soccer in the yard, and parents are either cooking or just visiting outside. We passed some children on the way to school or home from school. There were many gathered at the water source (just a hand pump and concrete slab), and depending on which area we were in, the street might be lined with Haitians selling food and clothing, washing motorcycles and cars, or livestock just staked along the road. The majority of the side roads are not paved except with large rock (our fastest and safest speed was about 10 mph), and even when we were on the major paved road, the traffic was amazing. It seemed to me like the ratio of motorcycles to cars was 10 to 1!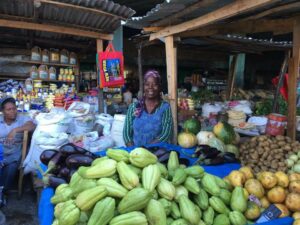 Wednesday was a great day full of experiences! The guys left after breakfast, and I left a little later with LaNae Meyer. Her husband Randy is a contractor hired by LSM. They live in the Haitian community. I got to meet some of her friends, see their homes, and she took me to a market that was filled with the sights, sounds, and smells of Les Cayes. It was an eye-opening experience that was packed into a very short time.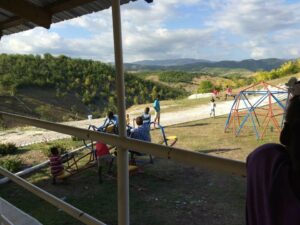 I met the guys for lunch. They worked until noon and then we were off to learn more about Homes of Hope, the mission LSM does in Haiti in addition to the Ag Park. Homes of Hope gave us a good reminder that the work we do at the Ag Park is very important.
Thursday was another wonderful day at the Ag Park! The hoop team, with help from the fence team, got the cover on the hoop building. We were thanking Jesus for minimum wind that allowed us to pull it over the hoops, and to get it tied down before the wind picked up and carried it away. While we were finishing up strapping the cover down with ratchets, Doc was getting the overhead door ready to hang. God is good and it went up with just a little scare (like most construction activities). But alas, the door is up and works quite well. While we are not able to put the fodder system together, there will be a team coming in March to finish that. We did get the fodder system inventoried and under cover in the hoop building.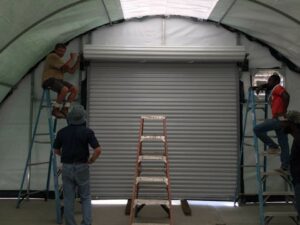 The fence team has continued to make strides in fence building. They decided two gates needed to be added to the fence line so four post holes had to be dug. The ground is so deeply layered with rocks that the young men had to dig 3 ½' down before the post could go in, and it was a tough job. These young Haitian men that work at the Ag Park are amazing. They are very nice, and speak limited English, so our conversations were very interesting but we were very blessed to have them.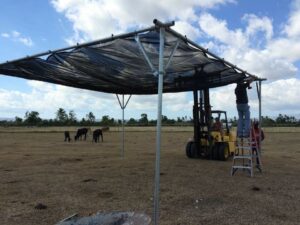 Friday was our last day at the Ag Park and what a busy day! You know how we all scramble to get things done at home before we leave for vacation? Well that is what today was like! The hoop building was finished so we put up a cattle shade in two different pastures. The cows (Limousin/Brahma cross) were curious about us at first, then realizing we had no feed, left us alone. I'm sure they will eventually figure out the shade works great. I know I did and was ready to put a hammock under it.
The fence crew continued pounding T-posts, hanging gates, stapling wraparounds, and putting insulators on the posts. We always try to leave by 5 PM so we are safely back to the motel before dark, but with finishing up and saying goodbye, we got a little behind. Praise God for our safe trip back to the hotel!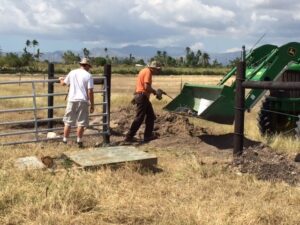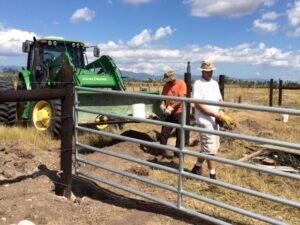 I have seen poverty in America. I have seen pictures of poverty, but I have never experienced the deep level of poverty that exists in Haiti. It isn't just a section of town. It isn't just a few blocks. It isn't the wrong side of the tracks because there are no tracks. It is miles and miles deep. It is the entire country.
Philippians 4:13 has always been a favorite verse of mine, and it hasn't been but until this last year that I realized I needed 11 & 12 with 13. During this week God truly laid this section of 12 on my heart and in my mind, "I know what it is to be in need, and I know what it is to have plenty."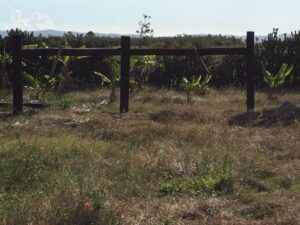 There is plenty of need in Haiti, BUT with God there is fellowship with brothers and sisters in Christ. There is hope because our sovereign God lives and breathes there. I am thankful for LSM and humbled and grateful for the opportunity to use my skills as a fence-building farm wife to make a difference. Continue to pray for those being the hands and feet in Haiti. They need it!





For more information on Loving Shepherd Ministries, check out their Facebook page or website.