1⅝" Modular Rail/Tube Gates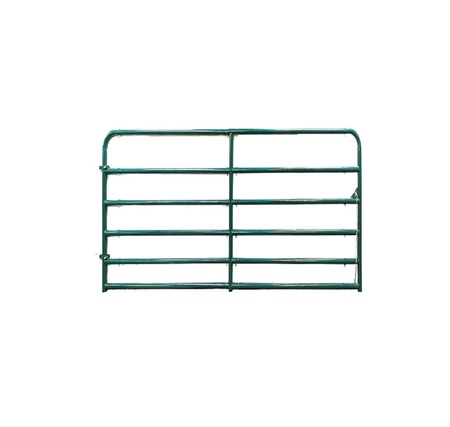 Modular gates come broken down into multiple pieces and prepackaged in a box. This allows for easy shipping and handling or moving from one location to another. Broken down gates are easier to load in the bed of a truck or the back of an SUV, which eliminates the need for a trailer. These gates are also much lighter and easier to move than traditional gates.
They are customizable and can be easily assembled in minutes.

This modular gate has a green powder-coat finish, and it is designed 3" shorter to accommodate hardware.

1 5/8", 6-bar economy tube gate
10' wide x 50" high
Green powder-coat finish
Tube thickness: 20 gauge, 0.9 mm, 0.0354"
Includes two hinge pins, one welded chain latch, one adjustable hinge set, one 31" snap chain, and one vertical Z brace
Made in China