1 ⅝" Modular Rail/Tube Gates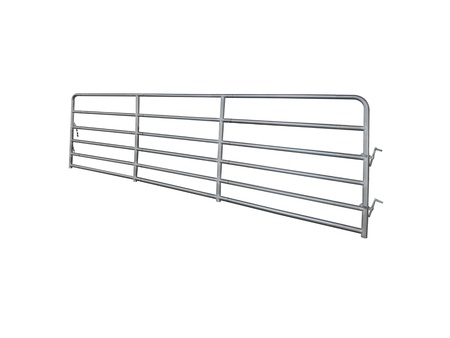 Modular gates come broken down into multiple pieces and prepackaged in a box. This allows for easy shipping and handling or moving from one location to another. Broken down gates are easier to load in the bed of a truck or the back of an SUV, which eliminates the need for a trailer. These gates are also much lighter and easier to move than traditional gates.
These gates also have the ability to be customized and can be easily assembled in minutes.
4' Wide x 50" High
Galvanized Finish
1 ⅝", 6-Bar Economy Tube Gate
Tube Thickness:
Included with Gate

Two Hinge Pins
One Welded Chain Latch
One Adjustable Hinge Set
One 31" Snap Chain
Designed 3" shorter to accommodate for hardware
Does NOT include a vertical Z brace
Made in China