1 5/8" Modular Wire-Filled Gates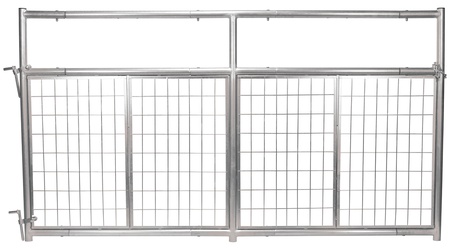 Modular gates come broken down into multiple pieces and prepackaged in a box. This allows for easy shipping and handling or moving from one location to another. Broken down gates are easier to load in the bed of a truck or the back of an SUV, which eliminates the need for a trailer. These gates are also much lighter and easier to move than traditional gates.
These gates are easily assembled.
12' Wide x 50" High
Galvanized Finish
1 5/8" diameter, 20 gauge tube
Wire-Filled 2" x 4"
Includes Hardware

Two Hinge Pins
Two Adjustable Hinges
One 31" Chain w/Hook

Manufactured 3" shorter to accommodate for hardware
Made in China