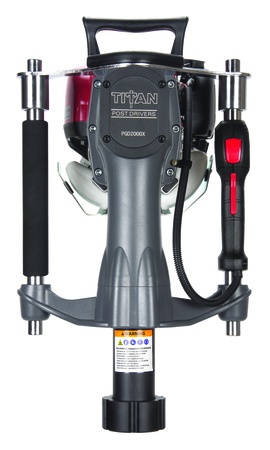 The Titan PGD2000X is powered by a Honda GX35, 1.3hp, 4 stroke engine providing up to 1,750 beats/min. This X Series Driver is equipped with a 2" OD / 1 7/8" ID heavy duty threaded steel barrel and screw cap making adapter sleeve changes fast and secure. Adapter sleeves are One Piece, Solid Industrial Grade Poly. The X Series Driver allows you to customize your driver depending on the task by attaching handle kit(s). These handle kits provide operator comfort, control and safety when driving from different positions while still allowing access to the integrated top carrying handle. This post driver is 100% self-contained making it easy to lift, move and carry.
Comes complete with rugged poly carrying case, tool kit and extra grease for servicing, plus a 1" adapter sleeve PGDWRS100X.
Assembled and Serviced in the USA.
Adapter Sleeves 1/2" PGDWRS050X and 3/4" PGDWRS075X Sold Separately
Upper/Lower Handle PGDLHKX, Top Throttle PDGTHKX, 15" Ext Handle PGDSHKX or 30" Ext Handle PGDEHKX. Sold Separately
Honda GX35, 1.3hp, 4 stroke engine

1,750 bpm

2"OD / 1 7/8"ID Threaded, Hardened Steel Barrel

Auto-Reset Kill Switch

Customize with Handle Kits

Includes Carrying Case, Tool Kit, Grease and 1" Adapter Sleeve
Weight 35 lbs Base Unit

Due to national supply shortages, Titan Post Drivers with Honda engines are out of stock and cannot be backordered at this time. We apologize for the inconvenience. The PGD2875 and PGD3875 post drivers are not affected by this shortage.