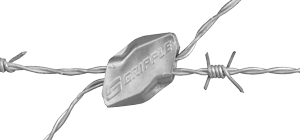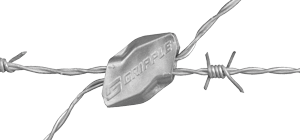 The Gripple delivers significant time savings when joining and/or tensioning barbed wire because of the simple and fast design. The Gripple Plus has a patented ceramic locking mechanism that delivers superior grip and load strength. The internal ceramic roller is rock-hard, super-tough and designed to grip high tensile wire resulting in a bond that lasts season after season.

Simply push wire into the opposing ends, push through leaving at least a 2" tail this will allow for grabbing to easily adjustment and/or tensioning. Remove barbs prior to installation to achieve desired tension. Once in position, serrated rollers grip the wire as soon as reverse tension is applied.

The Gripple Plus Barbed Wire can be used on 12 ½ gauge barbed wire. Ideal for use with larger diameter Trellis Wires. Consider a torque tool so you can apply tension and make future adjustments (always leave a 2" tail).
Torque Tools: Basic ( TGTTP ) / Heavy Duty ( TGTCC ) / Contractor ( TGTC )
12 ½ gauge barbed wire
Join and/or Tension Wire
Simple and Fast = Significant Time Savings
Designed for superior grip
Maximum Working Load = 600 lbs
EACH ( Pack of 10 = CGB-10-200 )