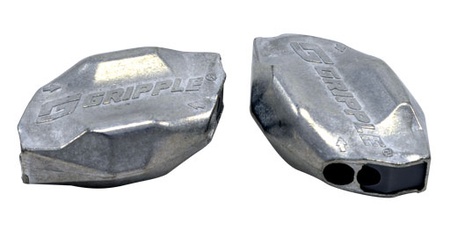 The Gripple delivers significant time savings when joining and/or tensioning wire because of the simple and fast design. The Gripple Plus has a patented ceramic locking mechanism that delivers superior grip and load strength. The internal ceramic roller is rock-hard, super-tough and designed to grip high tensile wire resulting in a bond that lasts season after season.

Simply push wire into the opposing ends, push through leaving at least a 2" tail this will allow for grabbing to easily adjustment and/or tensioning. Once in position, serrated rollers grip the wire as soon as reverse tension is applied. The Gripple Jumbo Plus is non-releasable and does not work with the Gripple Key. 

The Gripple Jumbo Plus can be used on 10 - 12½ gauge smooth wire. Ideal for use with larger diameter Trellis Wires. Consider a torque tool so you can apply tension and make future adjustments (always leave a 2" tail).
Torque Tools: Basic ( TGTTP ) / Heavy Duty ( TGTCC ) / Contractor ( TGTC )
10 - 12½ gauge smooth wire
Join and/or Tension Wire
Simple and Fast = Significant Time Savings
Designed for superior grip
Smooth Wire ( Low Carbon or High Tensile )
Maximum Working Load = 1320 lbs