Speedrite 46000W Mains Energizer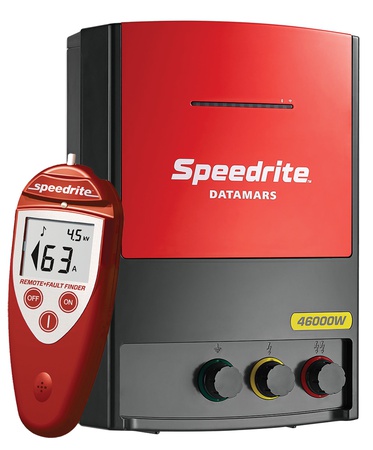 The Speedrite 46000W Mains Energizer offers superior power for farmers that want a great preforming energizer with an intuitive interface. With Bluetooth and Wi-Fi compatibility, the Datamars Livestock Farm App provides the ability to monitor and control the energizer from a smartphone.
Designed for large properties with extensive electric fencing systems or for those that want maximum power for high-vegetation growth or heavy loading from heavy livestock pressure. This energizer excels at maintaining high voltage and energy levels under the most extreme conditions.
Monitor and Control your energizer with a smartphone:
Use the Datamars Livestock App to connect to the energizer and see the fence voltage in real-time, configure the energizer settings and connect the energizer to the Wi-Fi network.
Once the energizer is connected to the internet it sends a notification when fence voltage drops, so issues can be resolved quickly. If a fault is found while walking fence line, use the app to turn Off energizer, make repair then turn energizer back On and check voltage.
Maintenance of Fence Line with Fault Finder / Remote Control
Included is a ( VPXR ) Voltage Tester, Fault Finder and Remote Control in the palm of your hand. Monitor voltage anywhere along the fence line and when a fault/grounding is detected, turn the energizer Off, fix the fault/grounding, then turn energizer back On. Imagine that convenience!
Superior Features:
Cyclic Wave provides continuous power right to the end of the fence.
LED indicators show energizer output voltage for quick diagnostics.
Bi-Polar technology provides high performance in dry, low conductive soil conditions.
Split bolt terminals allow multiple fence wires to be connected.
Bluetooth enabled - Using smartphone connect to check voltage, turn on and off and configure remote.
Wi-Fi enabled - Connect energizer remotely through internet to receive notifications when voltage drops. Check voltage and turn on and off. Wi-Fi Required
Operates on 110v source
3 year Warranty
This Product cannot ship to Canada