Wedge-Loc Suggested Uses

Bracing Suggestions & Ideas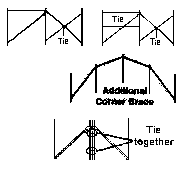 Mix and match diagonal & horizontal braces to build your own style of brace.
NOTE
If you have a corner that is not square, and is running off on a different angle, just install two separate single diagonal braces in the direction of you fence line and wire the posts together.
---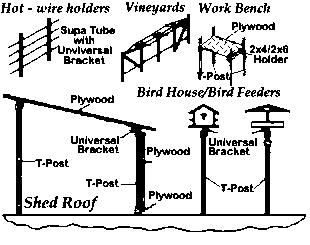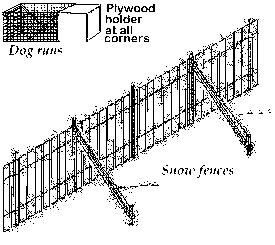 YOU'LL NEVER HAVE TO DIG ANOTHER POST HOLE, POUR CONCRETE OR SET EXPENSIVE, HEAVY WOODEN POSTS!
ERECT A CORNER IN APPROXIMATELY 15 MINUTES OR LESS! Now you can quickly and economically erect a corner with the bracing needed for tight stretched wire fencing using regular steel fence posts, commonly know as "T-posts".

Wedge-LocTM hardware fits all steel U.S., Canadian & Mexican T-posts and works with ALL types of fence material for both permanent and temporary fencing needs. The Wedge-LocTM collar will hold up to 4 sockets to let you build 2, 3 or 4 way corners. Start and finish a fence line or barricade fence anywhere! Build a fence for rotational grazing, temporary pastures, snow fence, trellising for fruit...virtually any kind of fence you want that needs to be braced.
BUILD A CORNER IN NO TIME!!!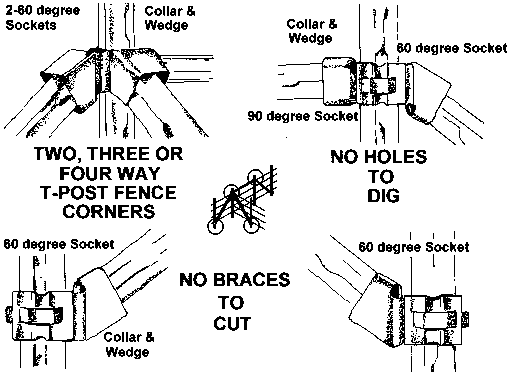 Tests performed at the University of Arizona proved the durability of Wedge-LocTM hardware. The wires broke at 2900 lbs. of pull and the testing was stopped. (The average combined pull on a 4-strand 12.5 ga. wire fence is 500 - 700 lbs.)
WEDGE-LOCTM HARDWARE WAS STILL INTACT AND DOING ITS JOB!