Safe Fence -Install End, Corner & Gate Posts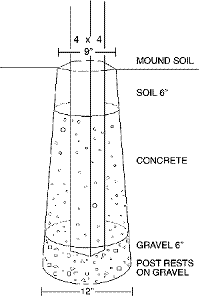 Mark, dig, and set in all of your support posts. These will be used on all gate, ends, corners, changes in elevation (low and high spots), and in spans exceeding 825 ft. to hold tension. We recommend 4"x4" square or 5"+ round or larger pressure treated post. These should be set a minimum of 3 ft. in the ground with concrete.
For a very attractive fence, use nominal 4"X4" pressure treated posts covered by SAFE-FENCE JR4005 Wood Post Vinyl Sleeves.

For best results dig a three-foot deep hole that is 9" wide at top and 12" wide at bottom. Put in three inches of gravel and center post in hole. Use level to straighten and add three more inches of gravel. Add concrete to within six inches of surface. Fill hole with soil and mound extra soil around bottom of post to keep water away from post. Allow concrete to set for 24 hours before attaching Safe-Fence Tensioners.